How to Read the Alpha-Angle Freeze Mark
Reading the Alpha Symbol: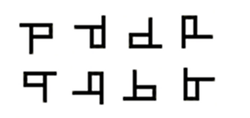 The first large symbol is the Alpha symbol and indicated the horse's registering organization or the state the horse resides in. Each Alpha symbol has been developed so that one symbol, such as a P, cannot be changed into an R. Each Alpha symbol can be turned into one of four positions, and also into a mirrored image of the symbol in an additional 4 positions. Each symbol therefore can be placed into one of the eight positions. Larger registries, such as the Arabian, American Quarter Horse Association, Appaloosa Horse Registry, Paint Horse Registry, to name a few, have a Alpha symbol assigned. Smaller breed registries, grade horses and mules will have the State symbol applied.
---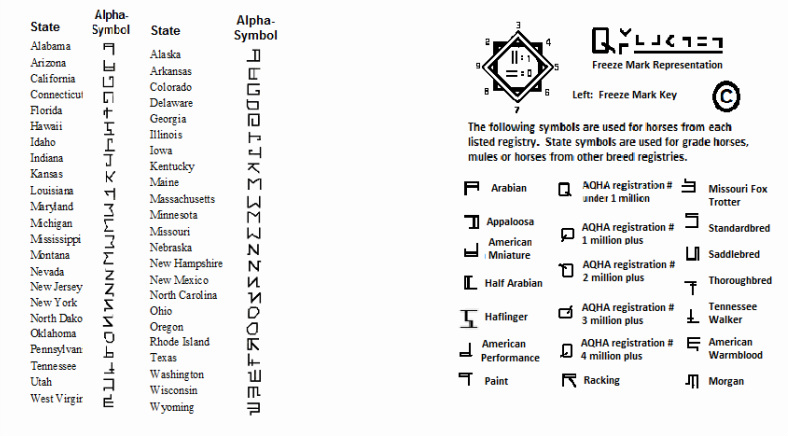 Reading the Angles: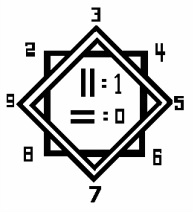 The angles were developed to prevent someone from changing one number into another, such as a 3 into an 8, or a 1 into a 4. The position of the angle represents the corresponding number, and the equal sign
represents a zero, and the ll represents the number 1. These angles can not be changed, even through surgery, due to the directions of the hair flow. The first two stacked digits of the freeze mark state the year the horse was foaled. The remaining six digits will be either the breed registration number (for breeds that have been assigned an Alpha symbol), or for smaller registries, unregistered horses and mules it will
represent the state assigned number. The American Quarter Horse Association (AQHA) have over 4 million registered horses. Due to this all Q positions have been assigned to this registry. The position of the Q will tell you what the first number is in the horse's registration number. (See the chart above)

Can you read the above freeze mark? It is a registered Paint, foaled in 90, registration number is 206999
---